Heat Stress is the Problem. goSafe has the Solutions.
Heat is a hazard, and working in extreme temperatures can lead to a variety of heat-related illnesses (HRI's). HRI's are entirely preventable, but to effectively mitigate the risks, it is crucial to be familiar with symptoms of common illnesses, as well as mental and physical practices and products that can help prevent onset. This video demonstrates the importance of Heat Stress awareness, and provides specific ways to mitigate heat-related dangers.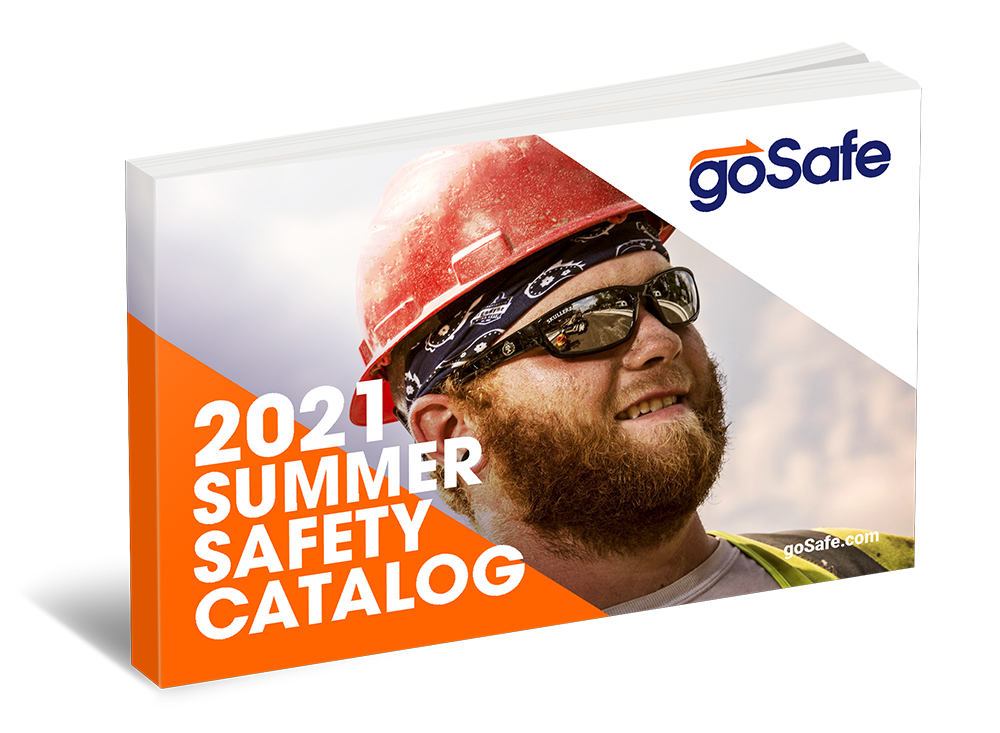 goSafe's Summer Safety Catalog
Packed with products that can help provide relief from the oppressive heat and humidity pervasive to so many regions during the summer months. We've also included a handy Heat Index chart, and a valuable promotion from one of our most valuable vendors. Click below to download.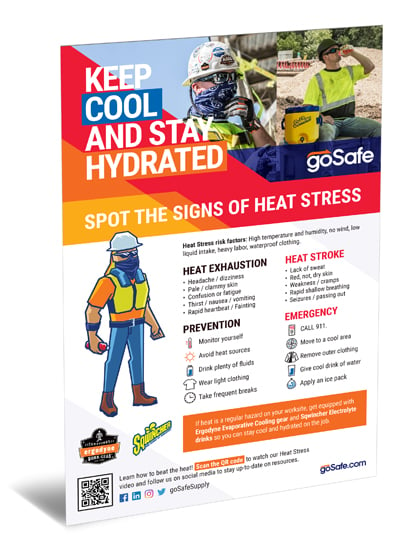 goSafe's Heat Stress Poster
This downloadable Heat Stress poster is a great way to remind workers on your jobsite of the dangers of Heat Stress. It includes symptoms of Heat Exhaustion & Heat Stroke, provides tips for how to prevent HRI's, and instructions for what to do in an emergency. The embedded QR code links directly to the video above.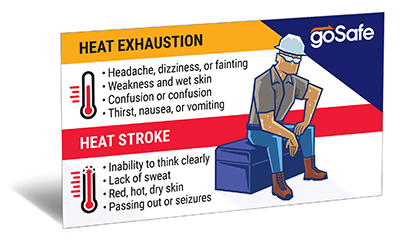 goSafe's Heat Stress Wallet Card
This pocket-sized card is the perfect way to keep reminders of the danger of Heat-related Illnesses close at hand. The two-sided card lists the symptoms associated with both Heat Exhaustion & Heat stroke. Click below to download a page of cards that you can cut out and distribute.
goSafe's Hazard School
goSafe's Hazard School is a comprehensive, interactive experience that educates users about the hazards associated with Heat Stress. goSafe's Hazard School can help users gain valuable insight about the impacts that adverse conditions can have, and provides valuable information that can help better prepare users for future situations. Click the logo above and select the 'Heat/Cold Stress Prevention' category to learn more!
goSafe's Expert Zone
The goSafe Expert Zone is designed to provide users in a supervisory capacity the resources and materials they need to get their people on the right path towards safety. The Heat Stress area includes a variety of relevant information, including Basic Operating Procedures, , Inspection Forms, and downloadable pre-made posters and charts. Click the image above & select Heat/Cold Stress Prevention to learn more!
Provided by goSafe for information purposes only, without warranty and subject to the Limitation of Liability contained in our Terms & Conditions.
The reader/viewer is solely responsible for safe and proper use of products in compliance with product instructions and applicable laws.