HEAD PROTECTION VS BRAIN PROTECTION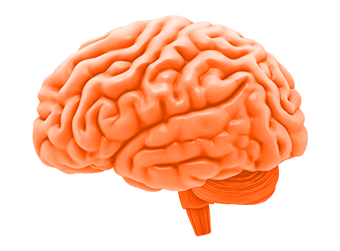 The brain is one of the softest and most sensitive tissues in the body, with a similar consistency to jello. This might sound amusing, but throughout this jiggly mass is a complex network of nerves and neurons that control everything from motor skills, coordination, and sensory awareness to memory, emotion, and speech.
All of this boils down to one fact: of all the dangers that should be prevented, head and brain injury is one of the deadliest and most costly to worker and employer alike.
---
Traumatic Brain Injury (TBI) in the U.S. Construction Industry
24%
of all workplace TBI cases were in construction
57%
of construction TBI cases were from falls
52%
of all TBI survivors experience decline or death within 5 years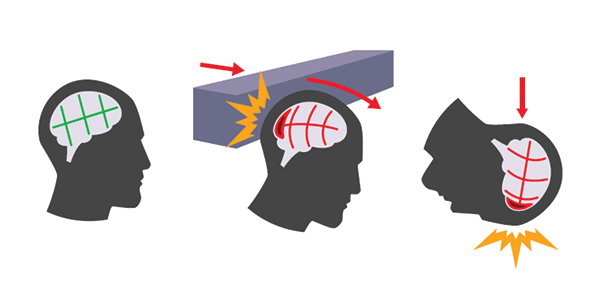 LINEAR IMPACT
Most hard hats are designed to protect against linear impacts, with Type 1 protecting the top of the head, and Type 2 extending protection to the sides.
Linear impacts are most responsible for skull fractures and, in rare cases, can also cause concussions from compression, stretching, and shearing of the brain.
All that said, linear impacts are very rare. After all, real accidents don't happen in a lab, and gravity doesn't care where or how your head hits the ground. The vast majority of head injuries are caused by angled impacts that create rotational force.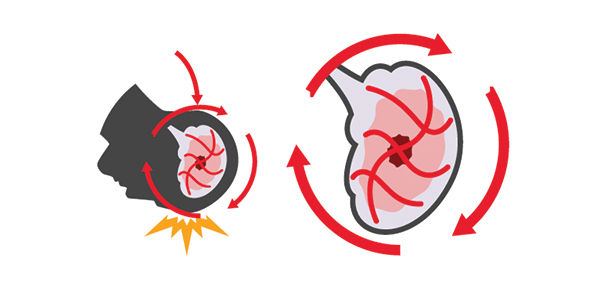 ROTATIONAL FORCE
To illustrate the dangers of rotational force, imagine a washing machine: it cleans your clothes by spinning and agitating the fabric to remove contaminants. Rotational force can do the same thing to your brain.
As the head impacts the ground at an angle, your soft brain matter will continue to move or rotate in whatever direction your skull was just before impact.
Depending on the speed, area, and angle of impact, this agitation will ripple throughout the brain, shearing the axons that connect white and gray brain matter and even damaging connections between different parts of the brain: both common results of a concussion.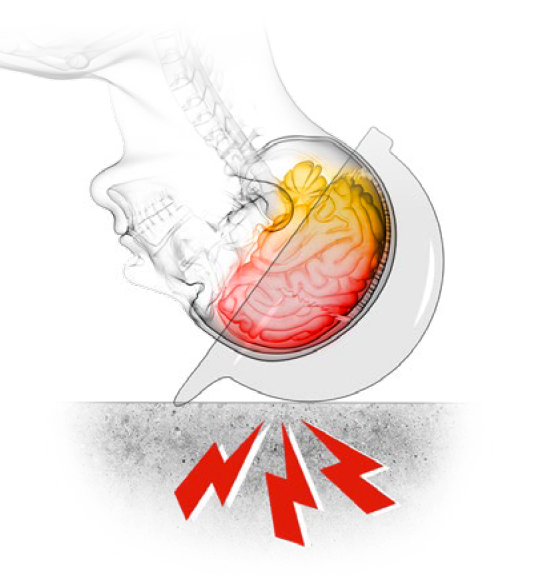 THE SCIENCE OF HEAD INJURY
CONCUSSIONS AND TRAUMATIC BRAIN INJURIES ARE COMMONLY THE RESULT OF ROTATIONAL FORCE AND STRAIN TO THE BRAIN.
Injury statistics demonstrate that when someone trips on a level surface, they are more likely to fall at an angle instead of directly on top of the head. This is due to the forward energy of motion that may extend to the head when hitting the hard ground surface. Over the past few years, science has shown that our brains are very sensitive to rotational forces
IN THIS SCENARIO, CONVENTIONAL HARD HATS WITHOUT A CHIN STRAP WOULD LIKELY FLY OFF. A CHIN STRAP HELPS, BUT IS IT ENOUGH?
INTRODUCING MIPS® TECHNOLOGY
A LOW FRICTION LAYER TO HELP REDUCE THE SEVERITY OF HEAD INJURIES
At impact the Mips® Safety System is designed to help reduce the amount of rotational force transferred to the head by redirecting the forces that are generated by the impact.
The Mips® Safety System allows for a 10-15 mm relative movement between the helmet and the head during the critical first 5-10ms of the impact.
It is not uncommon that the point load on the head/helmet at impact is at 2,200 lbs. – The Mips® Safety System is designed to allow the helmet to move even under this kind of pressure.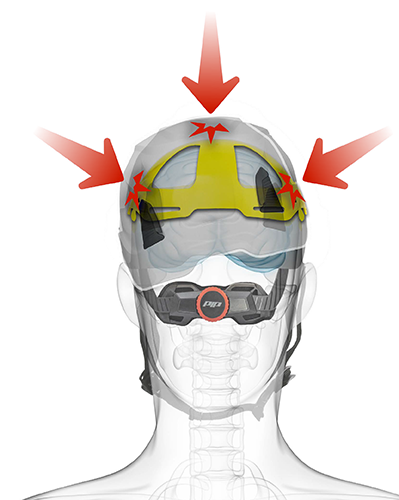 To ensure the highest levels of protection on the market, a Type 2 safety helmet with MIPS is your best choice, providing secure, 360 degree protection against linear impact, angular impact, and rotational force.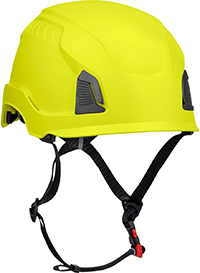 WHEN DO YOU NEED TYPE 2 PROTECTION?
Because Type 1 hard hats fail to protect against side impacts, they are wholly inadequate for the majority of industrial and construction applications. Even if one or more of these are not present, slips, trips, and falls alone still rank as the primary cause of head injury, and warrant making Type 2 the bare minimum for your safety program, with MIPS being highly recommended, especially for work at height.